Join the Circle and sit with the Goddesses
Each month we will invite one of the Goddesses to lead the circle. We will ask her to show us her shadow and her light side, inviting: healing, acceptance, and beauty of all that we are, who we are.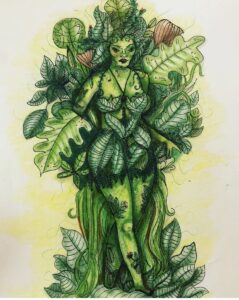 In this Circle, we will:
Learn about each Goddess;
Experience a guided meditation with a Goddess;
Invite healing into the places that need love and care, allow the wounds to heal/shift;
Listen to our soul.
This Circle is dictated by the conversations between the Goddesses and the Circle, me being the ear of the Circle, and requires flexibility and ability to flow with the information received.
We will meet once a month at 7pm PST in an online Zoom meeting to share in the journey. If you can't make it to the circle you will receive a recording.
Upcoming circle dates:
January 11th
February 8th
March 8th
April 12th
May 10th
June 14th
Who am I?
My name is Csilla Toth and I will be your guide on this journey. I have been listening to the whispers of the spirits since I was a little girl. My divination path was kicked off by reading coffee grinds as a teenager. I have been practicing Reiki and energy work since 2010. Reiki workshops and journey circles are a part of my long standing practice.
What others have to say about the circle:
It's such a highlight that I look forward to our Goddess Circle every month. I love the community in our circle and sharing our experiences in the meditation, and seeing the similarities of our experiences with the different Goddesses. I also love feeling the different energies of each Goddess every month. And I love having the recording to do the meditations again, and continuing to work with the Goddesses on my own. This Circle has given me more confidence in my energy healing experiences and trusting the guidance I get from my meditations. It's been so valuable. I love it. ~ Phaedra E.P, New York
"Making time for this meditation circle with Csilla has allowed me to once again make my spiritual and mental wellness a priority. I look forward to each opportunity to virtually gather with other women in the safe, grounded space provided. I feel so honored and cared for each and every time I join this circle, and the uplift I get from each meeting is priceless! Thank you, Csilla, for providing such valuable connection between each other, our spirits and the world!" ~ Allsion H, Washington
"In general, I feel more ease and empowerment in my emotional world knowing that I have the ability to access the wisdom and information of the goddesses. They hold wisdom that I want and I love that I can ask them for help and wisdom to guide me through confusion or limitation. I am so grateful to be a part of the circle – not only for the experience if the goddesses but also for what I learn from the other beautiful women in the group. Thank you Csilla!" ~ GENEVIVE, Oregon